Buda + Pest
A Taste of Hungary
If there was ever a time to believe in the power of visualization then this was it for me. Entering the ELTE University Library for the gala milonga of the Budapest Tango Festival was a surreal moment.
I sensed familiarity as we were ushered into the hall; walls lined with prized books and an ornate ceiling of frescos framing dancers in close embrace. This striking setting was the backdrop to some captivating tango performances I had relished from afar, courtesy of YouTube. Absorbed by the rich fusion of art and culture, perhaps I had imagined myself there!
I was in absolute awe as I seized the reality of the moment. For some reason I hadn't grasped that this venue would actually feature on our festival agenda. Dancing amidst volumes of Hungarian literature, history and culture felt like a rich philosophical immersion of sorts. Perhaps otherwise a place of sombre nature, the atmosphere was now imbibed with melody and passion.
A consistent stream of merriment carried us through the festival events – from workshops to afternoon milongas to gala evenings. Thankfully the performance program was light and featured our much-loved maestros, which further enriched our festival experience.
The afternoon milongas were energetic despite the soaring August temperatures, scaling the mid 30's. Tango rhythms ricocheted into the café-lined square as diners, dancers and onlookers united in a joyous summer spirit at Café Vian, a French inspired bistro. A salubrious supply of zesty fruit and herb-laden lemonade was on hand to keep the thirst of summertime tango at bay. The Hungarians are refreshingly creative with their lemons!
The festival is welcoming and draws a slice of European tangueros, most on a regular basis. Predictably, it was a few milongas into the festival before the adept locals spread their cabaceo net wider than their familiar acquaintances. The occasional nod of acknowledgement reminded me that we too had built some familiarity through our travels across Europe, even if I couldn't quite place the friendly face.
We opted to forgo the festival after parties to keep our senses primed for some daytime sightseeing. Our first stop, in the 'city of spas' – well, a thermal pool, of course! We plunged into one of the less touristy baths for some no fuss revitalization. After a courageous routine of pool dipping - alternating quivering cold to searing hot - we found our way up to the rooftop whirlpool. Set in the tranquil hills of Buda, the spa overlooked the Danube and the architectural jewels of Pest that gradually began to flicker as the light of day gave way to an illuminated nightscape. A sunset stroll to the Buda castle was the only incentive to leave the panoramic splendour and comforting mineral waters.
Architecturally, Budapest is an eclectic and fascinating mix. Imposing landmarks, from the neo-Gothic Parliament to the Baroque Buda Castle and the Moorish Synagogue of Dohany Street, all radiate a sense of power and opulence. I found my gaze was constantly fixed upwards appreciating the ornate detailing of building facades as I wandered the streets of Budapest.
It's certainly not all glamour. Budapest wears her scars prominently. Previously derelict neighbourhoods are now buzzing with 'ruin bars' - pop up clubs and bars established in abandoned buildings. Modern eateries are making their way into these characteristic spots bringing about a sense of unification of the old and the new as the city's narrative evolves.
To my surprise, Budapest is a gastronomic delight beyond the infamous paprika spiced Hungarian cuisine. Influenced by its neighbours, the spectrum of enticing eateries in Budapest range from trendy hummus bars to a century old Viennese strudel café and everything in between. Goulash aside, Jewish street food is the rave. We combed the laneways of the Jewish Quarter through a riot of delectable aromas of herbs and spices, to find ourselves a dining spot. Influenced by Mediterranean and Middle Eastern cuisine, the urban serve of Jewish food is not necessarily kosher but the mezze style serves are ideal pre-tango fare.
Budapest is a treasure trove that warrants a few days of exploration without a busy tango schedule to juggle. The agenda, well it's simple; explore, spa, eat –repeat!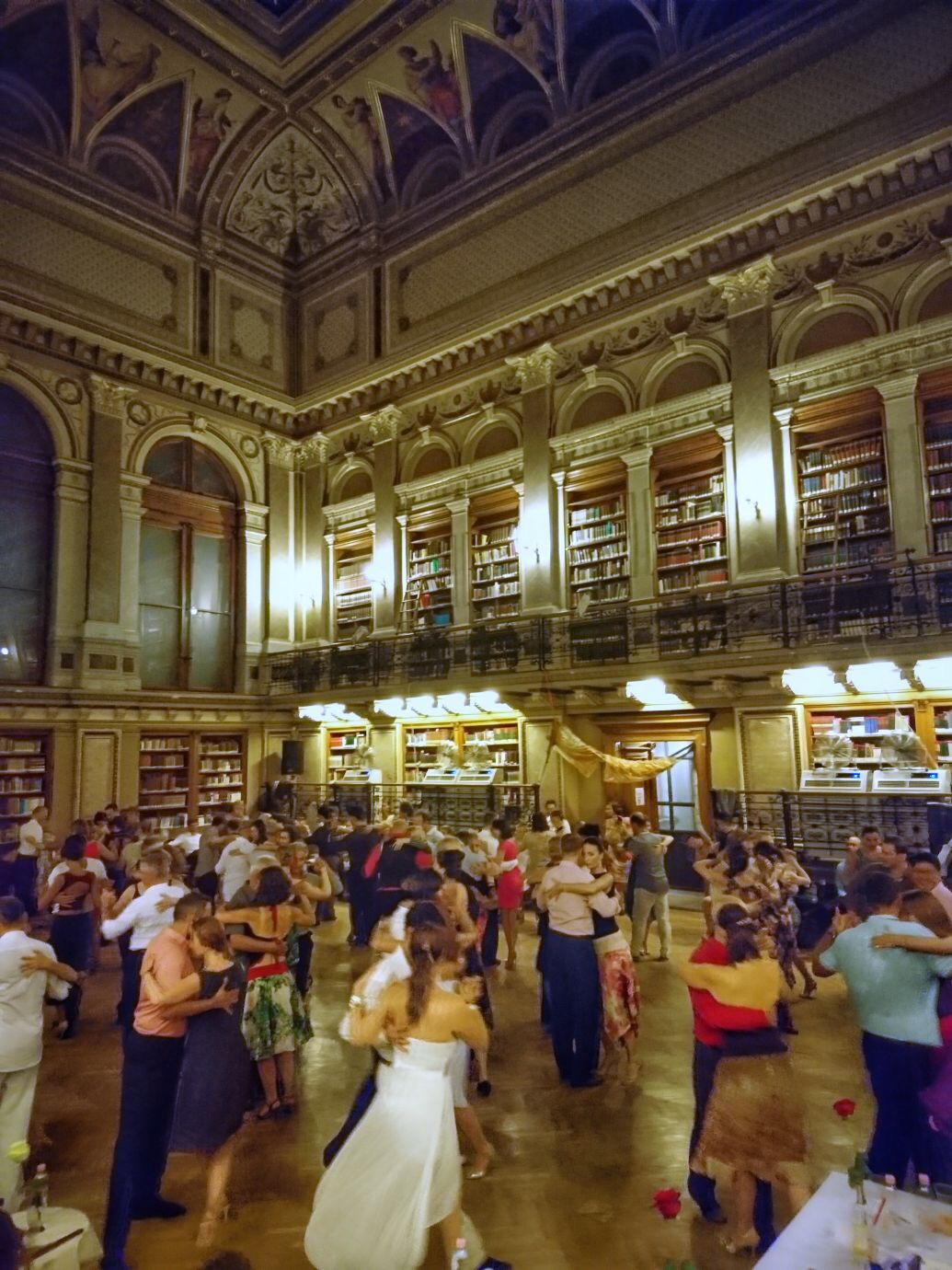 City Highlight: Budapest is bursting with gems to be explored...too many to list! The grandeur and buzz of the city is equally enticing by day and by night. Exploration of the city's history, spas and cuisine combined with tango was just perfection. Mazel Tov, a recommendation from our maestros, was the perfectly stylish urban Jewish food experience.
Coffee in the City: For good Aussie style coffee, you can't go past Embassy Espresso. Surrounded by hip eateries it's great for people watching too!
Festival Highlight: The characteristic festival venues made for an immersive cultural European experience.
More on the El Sabor de Hungria Tango Festival: http://barriodeltango.hu/elsabor/