Cracking Berlin
Trasnochando*, In A City That Never Sleeps
Berlin had been inching its way up my priority list of tango destinations though the opportunity to visit came about sooner than I expected.
Amid the reminiscences of division in a post cold war city lays a lively tango scene and spirit of connection – the contrast couldn't be sharper. Notorious for it's 24/7 all day, all night party scene, Berlin is also recognized as the European tango capital, home to one of the largest communities of dancers. Excited as I was, rumours of arrogance and an exclusionary and difficult scene to crack had me feeling less than ready to tackle the intransigent image of Berlin tango.
A festival, one of the many in the capital's active calendar, seemed to be the best way to get introduced to Berlin. Trasnochando fell over the Easter weekend when some local milongas gave way to the festival program proving its popularity amongst Berliners and not just out-of-towners.
With true German efficiency, the main festival events were very well organized with smooth check-ins through QR coded passes and efficient cloakroom staff to get us in and dancing without delay. The lakeside main festival venue was airy and modern though located someway away from the hubbub of downtown. The notable DJ's of the 5-day festival paid tribute to the Edad de Oro, the Golden Age of tango making for a more traditional event in a city of mixed tastes and genres. Codigos de la milonga were also actively encouraged through hand-outs at registration.
So far so good, yet something was missing and the elusive capital was not living up to my expectations. Upon reflection I realized festivals draw large numbers and mixed levels of dancers. Though the action packed program guarantees a tango-ful agenda it doesn't always deliver an authentically local experience. The intimate settings of local milongas are best for connecting with the local community and experiencing the true culture of a place.
The closing festival milonga, held at the dedicated tango studio, Nou Mitte hit the mark. Only the stalwart remained standing, most of whom were Berliners. The vibe was relaxed and the energy was undeniably gripping with a concentration of exceptional dancers in a more characterful setting. I enjoyed a string of memorable tandas with some incredible dancers and went onto share more special tango moments with some of them at the Belgrade festival.
The image of an 'uncrackable' Berlin scene was shattered in the space of one afternoon. There's a sense of exclusiveness of varying degrees anywhere that there is a high standard of dancing – so why not Berlin? Most of the local crowd also hails from somewhere else so we're all navigating a similar terrain of unfamiliarity at different levels.
The exploration of local milongas then continued and lured by the promise of traditional Berlin food we had headed to Max und Moritz. Characters of a children's story penned in the 1860's inspired the décor of the institution-like, quirky gastro pub, standing since 1902. The hearty, meat 'n stodge menu was not ideal pre-milonga fare, however –when in Berlin! The food did not disappoint and the friendly waiter even offered up a gratis digestif to help us on our way. The rustic wood lined venue, though very light on attendance due to the coinciding festival, made for a cosily authentic experience.
The hosts of Trasnochando also organize a weekly practica-milonga in the trendy suburb of Prenzlauer Berg. It is a warm and welcoming milonga that entices a good number and level of dancers. Their rooftop edition in the warmer weather would be a compelling reason to return!
I somehow expected a much younger, hipper, midriff-bearing crowd of dancers in Berlin. In 5 days I could only touch the surface of what the city had to offer, no doubt then I also only crossed paths with a slice of Berlin's tangueros. With an Hoy Milonga* app full of tango activity to chose from, there's never a dull night in Berlin.
Tango aside, the city is bursting with culture and history and holds immense touristic appeal. Anyone who has ever been claims to love it and would go back in a heartbeat. Those who haven't yet been are missing out and they know it!
A sprawling multicultural metropolis, Berlin is in fact two cities, a capital and a state in one. Its sheer size took me by surprise as I expected a concentrated walk-able experience typical of most European destinations. With a cycle friendly culture and free hotel bikes to avail of, we experienced much of the city's textured history along the remnants of the broken wall on two-wheelers with relative ease.
Given zero temperature days and unexpected snowfall we were forced to cut back the sight seeing to make way for frequent coffee warming and people watching breaks. Almost everyone in Berlin is from somewhere yet there isn't any apparent pressure to conform to a Berlin way of being. Everyone is just being. The street scene is a vibrant and eclectic mix; mostly unpretentious with an understated but noticeable style. You can be excused for feeling like you are in Spain one moment and France the next as one language drowns out the other in an excitable coffee shop banter amongst friends.
To experience Berlin in her trueness we opted to leave the beaten tourist trail of iconic sights and winding museum queues to wander the graffitied backstreets. Guided by the likeable Ampelmänn*, we cruised the characterful neighbourhoods past photo-worthy monuments paying homage to the vast history and brutal pre-unification zeitgeist.
A single visit is not enough to uncover all that Berlin has to offer; now that I have cracked the first layer I know I will return to peel back another.
* Trasnochando, is fittingly, Spanish for - to be up all night
* Hoy Milonga, Berlin is the only city aside from Buneos Aires that can seemingly justify a dedicated app for tango events
* The Ampelmänn is a prominent symbol of Berlin. The green character made his way onto the pedestrian traffic lights from East to West following the fall of the Berlin wall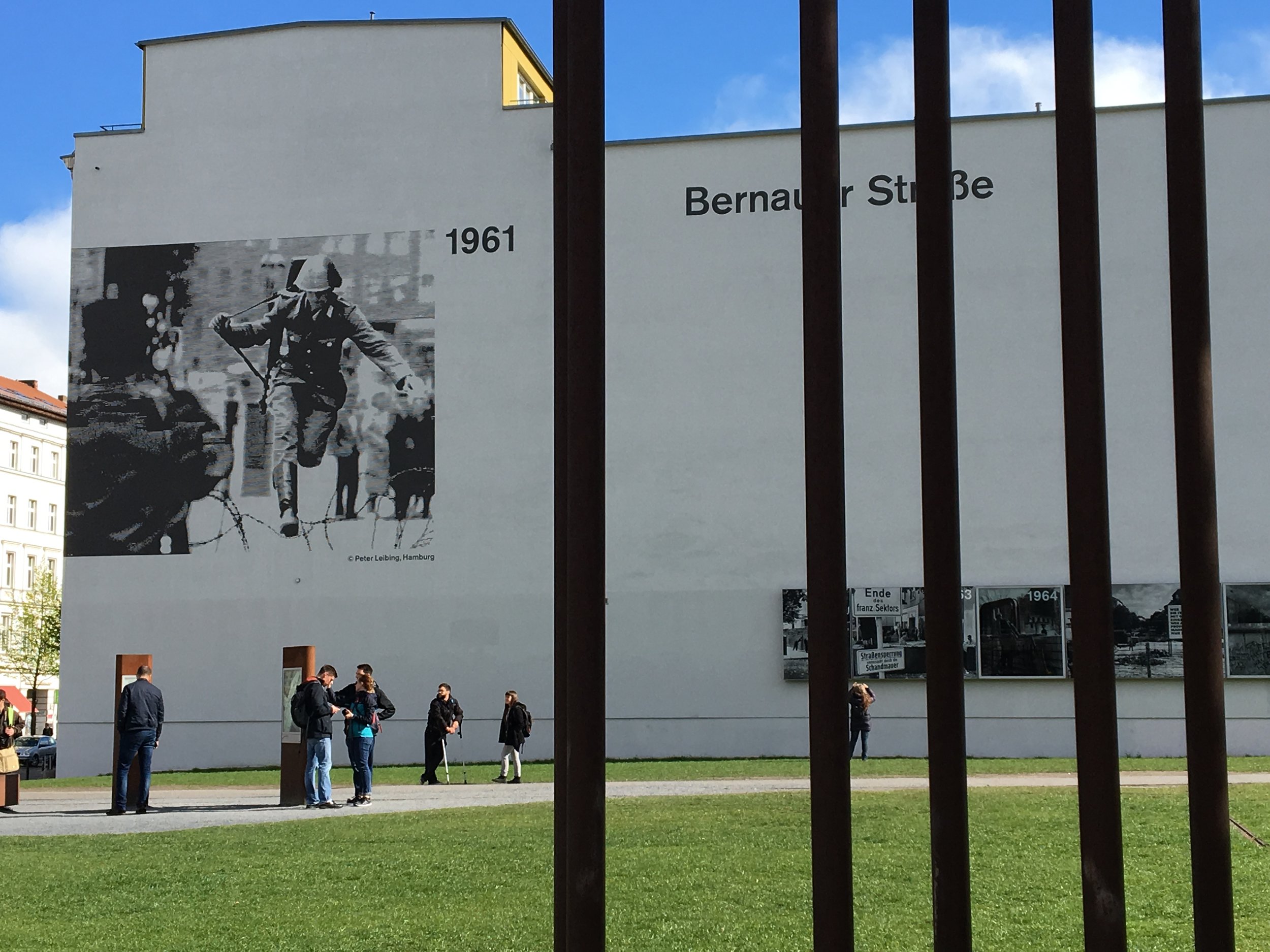 Tango Highlight: Multiple tandas of mutual enjoyment with the Berliners and perhaps the elusive Mr Berlin himself, or at least those who embodied the very image him.
Tango Tip: Though it may feel so for first timers, it's not entirely unusual for dancers to suggest consecutive tandas together and it's good that a well-meaning friend told me this beforehand.
City Highlight: Too many to list! As a lover of good German bread, Zeit für Brot, our local café was a scrumptious pit stop and the perfect spot for people watching as locals and tourists alike clamour for the freshly baked cinnamon rolls.
More on Tango in Berlin: www.trasnochando.de, www.berlintangoguide.de , highlights the vast spectrum of tango activities in the city. Download the App: www.hoy-milonga.com/berlin/en