Brussels Beckons
EU Capital Packs a Dose of Joie De Vivre
Chateau de Karreveld, an old farm-castle, was the venue for the opening night milonga of the festival. Arriving fashionably late, not too shy of midnight, I recall the tranquillity of the Chateau, barely disturbed by a couple of cackling geese crossing our pebbled path on their way to the lakeside.
Unbeknownst to us, the characterful venue was in the suburb of Molenbeek; a commune that has earned a reputation as a safe haven for jidhadists and is linked to recent terrorist attacks across Europe. The mayor himself describes the area as 'a breeding ground for violence' and was, to no surprise, thrilled to have a cultural activity such as tango hosted on his terrain.
Until this detail came to light, through our friendly Uber driver, Molenbeek was just another quiet neighbourhood in a European capital city. The streets were calm and peaceful as we spilled out of the quaint Chateau in the early hours of the morning after a few hours of festive dancing. Nothing felt untoward. Yet to think the unthinkable: whilst a community of international dancers gathered to seek connection with one another, in the same town another community was known to be masterminding atrocities that destroy lives and forge a stronger divide.
From Berlin to Belgrade and Frankfurt to Geneva, nowhere was the security more conspicuous than in the centre of Brussels. There was a palpable presence as armed military patrolled the EU's administrative capital. I can't say it made me feel any safer, though being in Brussels didn't feel particularly unsafe either.
While our introduction to Brussels started in a neighbourhood of ill repute, our historical immersion started at our hotel, formerly a 15the century abbey. Behind a heritage façade and a hip lobby lay a series of Fawlty Tower-esque blunders, sadly, without the comedy factor. That said, the prime location of the The Dominican, smack bang in the centre of the city, made for a good base for further exploration.
The spontaneity of our trip to Brussels meant I had little time for the usual advance research of 'must see' sights. For me though the real joy of experiencing Europe is simply wandering through cobbled laneways to stumble upon a characterful piazza or an iconic monument steeped in history. The Grote Markt, Grand Place, in Brussels was one of those unexpected discoveries enroute to an afternoon milonga and amid yet another unremitting search for a good coffee!
Opulence and history compete for attention in equal force in the Grand Place. Strikingly ornate buildings rim the square making for a truly breathtaking concentration of grandeur, evocative of the Belgian bourgeoisie. The streets leading to the Grand Place pay ode to it's history as a marketplace named after the produce traded, once upon a time: Rue du Marche aux Herbes, Rue du Marche aux Fromages, Rue au Beurre.
The festival was good, the vibe was excitable and Belgium was welcoming and comparatively less intimidating. As with any festival, the format is pretty much the same; there tends to be a mixed level of dancing. There are great dancers, good dancers and not-so-good dancers. The floor welcomes excitable beginners to hard-core devotees.
The evening agendas were performance centric and as with so many gala events, the dimly lit, large hall challenged cabaceo connections. The daytime milongas were the absolute best. The closing afternoon milonga was the most authentically local and friendly experience of all. Tinged with a degree of festival fatigue having attended 4 festivals in one month, a mere whisper that the after milongas were at some distance from the city was enough to put me off any attempts to attend. The community in Brussels itself is small though it was pleasingly augmented by French, Dutch and Italian tangueros amongst others from further afield.
Belgium's national identity is challenged by its linguistic diversity. In the capital city we were surrounded by French speakers, whereas in the rest of the country the language of Brussels gives way mostly to Flemish and to some German.
Influences of French flair flavour the cuisine, fashion and sensibilities amidst a visibly multi ethnic populace. Though the Belgians are ostensibly new to speciality coffee, their culinary skills are well honed. To my delight seafood features prominently on menus and bowls of steaming Moules Frites, (mussels and fries) almost a national obsession, live up to their reputation. The cuisine is as diverse as it's residents. Belgium is better known for its sweeter offerings nevertheless I became immune to the permeating aromas of chocolatiers throughout the city, each confusingly claiming to provide Belgian's 'finest' or 'only artisan' chocolate.
Weeks after my return home, the juxtaposition of tango and terror echoes strongly in my mind. The contrast is impossible to reconcile. I do, however, carry with me the essence of joie de vivre captured in the many beautiful shared tango moments with those who share the spirit of connection.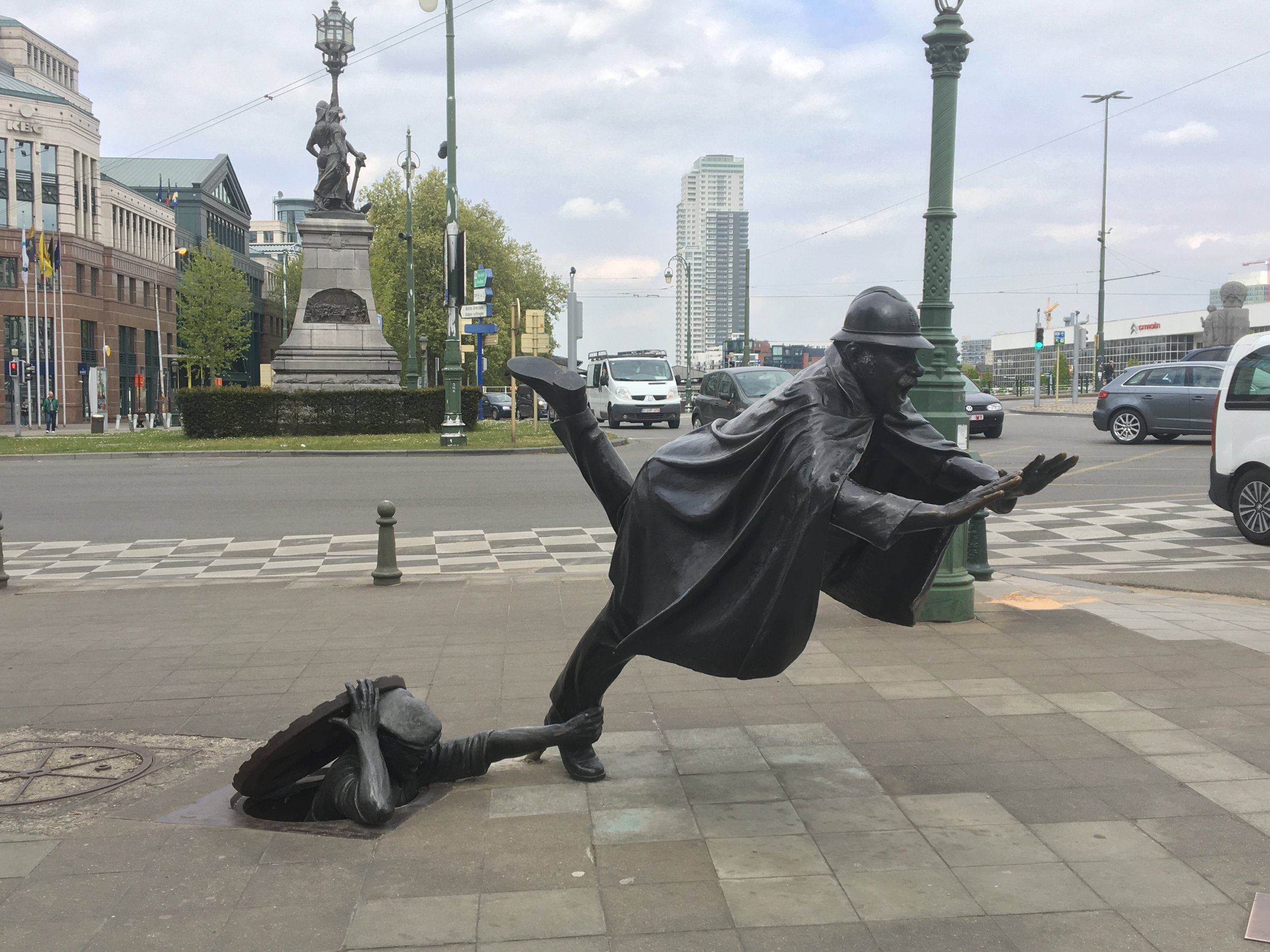 A Royal Affair
With the promise of being amongst a privileged few to enter the Royal Greenhouses, open to the public just 3 weeks each spring, we were lured across the city to the Laeken Palace gardens. The majestic Art Noveau glass structures are nothing short of impressive from every angle. An enthusiastic group of us dragged our weary tango feet through the endless pathways lined with every variety of orchid and geranium imaginable, interrupted occasionally only by water features and sculptures. Without a single exit sign in sight, I recall thinking 'if I see another flower I'm going to scream!'
A Side Trip
Bruges makes for an irresistible side trip even at the expense of some daytime dancing. Just an hour away by car, it is a medieval city of cobbled streets and canals lined with gothic architecture. The last place Colin Farrell wanted to be in his dark cult movie In Bruges yet the place I, and almost a million other people, wanted to be, on a blue-sky day over a long weekend in spring.
City Highlight: From majestic to grungy, Brussels is unassuming. The culinary scene is somewhat undiscovered. I fell in love with Brussels before I even arrived. On a short flight from Geneva, the crew served up individual packs of avocado quinoa salad. Why can't every airline feature genuinely healthy and fresh food?
Tango Highlight: Making new friends through old friends and sharing new experiences in a foreign land – such is tango travel, interconnected.
More on Brussels Tango: http://brusselstangofestival.com